Expression Web site published on WWW
Using Expression Web, create a new site with at least 5 pages. Get creative and have fun. Use this as an opportunity to practice everything you've learned in the course. Try to make your site visually appealing, well organized, and exciting for visitors.
Upon completion, create a free Web hosting account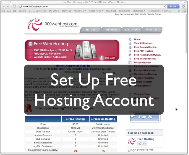 on the Internet at any free hosting service you prefer - OR if you have an account from CIS 207 on your own domain, feel free to use that one. OR, IF YOU DO NOT have an account from CIS 207, and would like one, you will need to purchase a domain from any registrar (I use http://www.mydomain.com, but you can use any registrar you want). Domain names usually cost around $10 per year. After purchasing a domain, send me an email with your domain name and I will set up a free hosting account for you. You can use this same account in CIS 209 - Advanced Web Development this summer.
If you prefer a free account, my suggestion is to Google FREE WEB HOSTING and check out the top ten links. Be careful to select a free hosting site that will allow you to upload files you have created on your computer. You DO NOT want to select a site that provides a Web template for you to just fill out. This site should work - http://www.000webhost.com/. The video on the right demonstrates the steps to create a free hosting account at http://www.000webhost.com/. Steps should be similar with other free hosting providers.
Upload your files to your new free account. One option is to publish using Expression Web's FTP feature. This option will require some reading about the hosting provider's FTP feature. Another option is to publish your Expression Web site to disk, then manually upload your files.
Create a simple text document that lists the Expression Web features you decided to include in your final project posted on the Web.
Visit your site to check for any errors. After correcting any problems, copy and paste your URL in to the Blackboard Assignment tool SUBMISSION box under FINAL PROJECT. Also, attach your text document that lists the Expression Web features you used.