Although CSS creates consistent formatting across an entire Web site, it does not create consistent content across the entire site. Each page in a Website has parts of it that never change, such as a logo or banner at the top, a navigation bar, or a footer at the bottom of the page.
A Dynamic Web Template (DWT) is an HTML-based master copy of a Web page that is used to create settings, formatting and page elements, and to specify which sections of a site's Web pages can be modified. Dynamic Web Templates not only provide a consistent layout and consistent format for recurring content regions, but also prevents the content of those regions from being changed. Editable regions are sections of a page where the content can be changed. All of the code for creating the page layout is contained in the Dynamic Web Template.
To create a Dynamic Web Template, click SITE menu, then click NEW SITE, then click TEMPLATES. Next, click a template style, then click in the Specify the name and location of the new site box, then type path of new site's location.
Another advantage of using Dynamic Web Templates is that we can easily make changes to all pages in the site. For example, to move the logo from the right corner of every page to the left, we make the change in the Dynamic Web Template. Once saved, all pages in the site are updated. Same concept for editing navigational items or footer, or any item for recurring content regions.
Rapidly build a Web site by using one of the 19 Expression Web templates. These sites contain a series of folders and default HTML files that can be customized. We we create a site from a template, Expression Web creates a special file, the master Dynamic Web Template (DWT) file, which controls the layout and appearance of each page. A Web site can have as many Dynamic Web Template files as we want, and they don't have to be named master.
Template files are divided into three groups. Six template Web sites are designed for an organizational or club, seven are designed for personal Web sites, and six are designed for small businesses.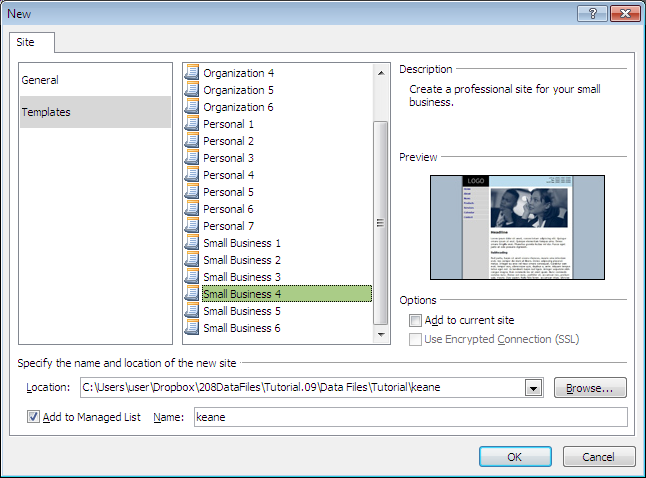 Expression Web keeps track of hidden files in a Web site by using metadata, which is information about the location of files and folders in an Expression Web site. When we maintain an Expression Web site using hidden metadata files, the default.html page automatically opens whenever we open the site. The choice to maintain metadata about Web sites is off by default.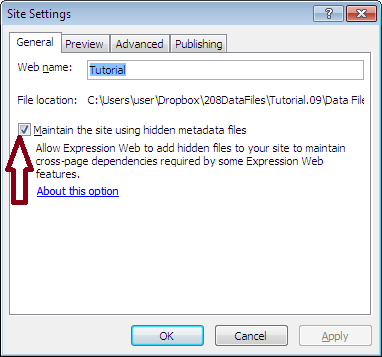 The Folder List is now populated with the folders and files generated for the Dynamic Web Template.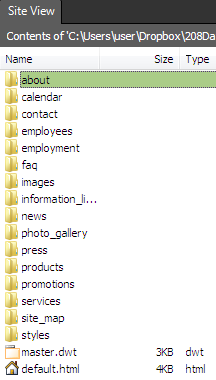 View in browser (IE9).
Always use a descriptive, short one or two word names for Web sites. Use lowercase letters, and replace spaces with the underscore (_) character. For example, coder_fun.
Only certain sections of the template page are editable regions whose content can be changed in the pages based on the template. Other sections are noneditable regions, whose content and appearance is controlled by the template document. When we click in a noneditable region in Design view, we can't edit the content.