Web Pages Published on WWW
As 20% of our grade, we will publish web pages on the WWW using a free web hosting account. We will have 5 different assignments during the term, each counting one fifth of the 20% portion of your grade (4% of final grade for each assignment). Each assignment will allow us an opportunity to practice what we have learned in the text.
You can pick ANY TOPIC for your WWW Assignment. Some students are interested in pets, and did a site on pets. Others are interested in fitness, and did a site on fitness. You can do your site on any topic you would like. Go take a look at the guestbook and look at sites other students have done (HINT: Click the picture of the world. Also, some links may be dead links if account was removed.). The idea of the guestbook is to let everyone share their page with others in our class so we can all be inspired and learn from what others have done.
After completing each assignment, you will need to provide me with the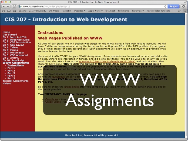 URL to your new web page by signing the guestbook on our class web page that corresponds to our assignment number. You will sign the guestbook FIVE times, once for each assignment; Guestbook #1 for Part 1, Guestbook #2 for Part 2, etc.
Be sure to check the grade sheet after you complete your assignments to make certain that you get all the points possible.
Two IMPORTANT LINKS on this page
Guestbook - (sign 5 times) to turn in each assignment URL
Grade Sheet - to make sure you get 100% grade on this assignment